You are hereBuilding an Ultra Stealthy Grow Cabinet
Building an Ultra Stealthy Grow Cabinet
---
by G.D. Bud
This article comes courtesy of the good folks at seattlecannabisjournal.com, and was re-edited for clarity and ease of reading. Click Here to view the original article in all its glory!
The day I got a recommendation for medicinal Cannabis was a relief. This was followed by the knowledge and urgency that I needed to get some plants in the ground immediately.
This had been a long-time dream of mine, and I fondly imagined my first harvest, curing my flowers to perfection, and collecting their resin for concentrates. I saw myself carefully journaling their progress, and eventually becoming an expert caretaker of myself and my marijuana garden.
Then reality set in: I have a small space, in a small house, in a crowded neighborhood.
Momentarily discouraged, I quickly scrapped the idea of a dedicated room filled to the brim. I began with getting clear about my intentions; I wanted to inconspicuously and autonomously produce my medicine. This was a much more respectable and realistic goal, and one that I could embrace.
After months pouring over cannabis related text and furrowing my brow at various nooks throughout my home, I saw through the problem. I would build a stealthy grow cabinet!
On Craigslist I found a cabinet kit still in the box for only $35. It came in at 24″ L x 30″ W x 70″ H. Next, I purchased a 6″ inline fan for another $100. The fan combined with a 400 watt light and Cool Tube from a previous grow gave me something to design around.
My sights set, I loaded Google's 3D rendering freeware, Google SketchUp, and got to work.
Sirius: Google SketchUp can be pretty tough to use without training, especially if you've never used it and you just want to design one thing. Rest assured: some paper, a pencil, a little math, and careful planning will work just as well!
See Another Stealth Grow Cabinet in Action and Build Your Own!
Was the cabinet in the above article a little too much for your sensibilities? Then check out these pics by one of our awesome readers!
Make sure you start your stealthy cabinet grow with the best seeds available!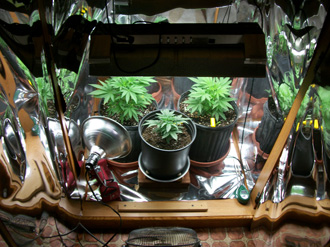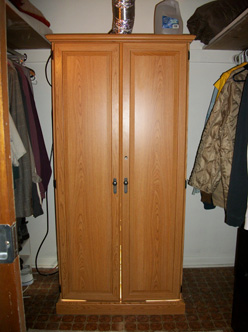 Learn how easy it is to care for your marijuana plants right here

---

Jump to...
1st Grow in My Garage - Using Homemade Grow Box Under 400W HPS
CFL Dresser Microgrow in Pictures - Clone to Harvest
How to Grow Weed in 20 Minutes a Week Using Bubbleponics
Which Grow Light? | Marijuana Grow Light Guide
2 Important Tips on Electrical Safety