You are hereMarijuana Grow Books Review
Marijuana Grow Books Review
---
Table of Contents
Here at GrowWeedEasy.com, we are dedicated to providing the best information and resources on how to grow marijuana so that things are as easy as possible for you, the grower.
In fact, we are dedicated to making our website the best marijuana grow bible in the world.
The truth is, good marijuana grow guides can be hard to come by. That fact actually the inspiration that caused us to create this website. We really believe that weed can be easy to grow, but you need the right information or plants can seem impossibly difficult to grow and finicky.
However, we know that we cannot be everything to everyone, and we still want to guide you to finding a reputable growing resource that works for your.
There are many marijuana growing books out there, some are incredible marijuana grow bibles, while other marijuana grow books are little more than endless rambling.
But which one is the best marijuana grow book?
For those interested in reading a book about growing marijuana, the following book reviews may help you decide what will work best for you...
---
Marijuana Horticulture: The Indoor/Outdoor Medical Grower's Bible
by Jorge Cervantes
This book by the legendary grower Jorge Cervantes is hands-down one of the most comprehensive marijuana growing books ever written... but is not meant for beginners.
The newest version of this grow bible was published in 2006 and contains 512 full color pages with over 1100 full color photographs and illustrations. Though the book would be several pages shorter if they'd skipped the pages of ads.
The 100s of incredible pictures of plants and buds are eye-candy for any grower, and I think these pictures really are what makes this book so fun to flip through and have on my book shelf.
When I first got this book in 2006, I had already been growing weed for 2 years, but this book was one of the main resources that first gave me the ability to start growing plants indoors with CFLs that yield nearly a pound apiece.
There is so much information, and it's usually pretty easy to find what you're looking for. Even after buying dozens of other grow books, none quite compares to this one and I still refer back to it when I need to quickly look something up.
Now, I don't totally agree with everything Jorge says, but he does present the information in a way that leaves you able to come to your own conclusions.
For one, Jorge does supports the use of pesticides, where I believe there are too many human-safe, natural ways to deal with bugs to ever resort to chemicals, especially for smaller-scale indoor growers.
As I said before, this book is probably not the best choice for beginners who are still learning the basics. Though comprehensive in every other way, Jorge assumes that you already have at least one grow under your belt and doesn't include a beginner's step-by-step guide. Read the comprehensive Grow Weed Easy.com basics guide here :)
Instead, this book is meant for intermediate to advanced growers who have an understanding of the basics and want to take their growing skills to the next level.
If you've been looking for a hard copy book you can put on your bookshelf, that you can refer to when you're tired of sifting through miles of weed forums and internet results, then this gorgeously illustrated grow bible may be the referencebook you've been looking for.
Or if you have a Kindle, Android phone, or iPhone and want to have this reference with you at all times, then there's a kindle version available too.
Order hard copy or get instant access to this grow bible on your Kindle
---
Grow Great Marijuana: An Uncomplicated Guide to Growing the World's Finest Cannabis
by Logan Edwards
They should change the name of this book to "Grow Great Hydroponic Marijuana Indoors For Dummies" and everyone would know exactly what it's about.
This book is not a comprehensive grow bible, yet it is definitely a complete and straightforward beginner's manual for those growing hydroponic weed indoors.
If you feel like you have gaps in your knowledge of the basic process of growing, or if you want a simple, easy-to-understand guide to gently walk you through your first few grows, this book will serve you well.
While this is a great guide for hydroponic grows (including coco coir and other soilless mediums) with high intensity lights, the author Logan Edwards does not offer much information for those who want to grow marijuana in soil or use alternative grow lights like CFLs or LEDs.
Topics include setting up your grow room, equipment, light schedules, grow room security, the life stages of marijuana, and the harvesting/curing process.
One of the things people love and hate about this book is Logan Edwards chopped out most of the "behind-the-scenes" science of growing, so you're left with just what you need to know to successfully grow your crops.
This simplification is perfect if you find other grow guides too complicated and want something simple, though the knowledge-hungry may want to learn more about what's going on down at the cellular level.
Pros:
Illustrations on how to germinate seeds, take clones, harvest and properly cure your weed

Easy to understand and step-by-step; no scientific charts or huge words

Everything you need to know about growing weed via hydroponics

Explains what equipment is needed including grow lights and nutrients

How to plan and set up your grow room

Complete explanation of all phases of growing
Cons:
Doesn't explain some of the cheaper growing options like growing marijuana with CFL grow lights

Doesn't cover soil or outdoor growing

Doesn't go very deep into the "science of growing marijuana" which can leave you hanging if you run into a problem (check out our picture problems guide if you run into any problems).
In addition to the hard copy version, if you have a Kindle, Android phone, or iPhone and want to have this grow guide with you at all times, there's a kindle version available too.
Order hard copy or get instant access to this grow bible on your Kindle
---
Marijuana Garden Saver: Handbook for Healthy Plants
by J. C. Stitch (Author), Ed Rosenthal (Editor)
This book is unlike any other marijuana books on the market. It's one of the first marijuana grow books I bought and definitely one of the few ones I actually still flip through occasionally.
If you're just starting out, or even if you're an experienced grower, there's TONS of useful information and pictures in this slim little book.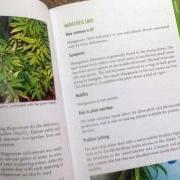 Definitely formatted like a handbook, you can quickly and easily find whatever it is you're looking for.
Contains detailed information on how to diagnose and fix just about any problem you may face while growing marijuana, whether you grow in water or other hydroponic growing medium, in soil, indoors, outdoors, or just about any way you can grow weed!
This book has everything you need to know, including why you're experiencing your problem, how to prevent it in the future, and all the different ways you can go about fixing it.
This is honestly a gold mine of information and any serious grower should invest the couple of bucks it costs to get this books.
It's basically like having a full-time marijuana doctor on call.
So whether you have questions about....
Nutrient Deficiencies
Mold
Viruses
Bugs
Just about any other marijuana problem...
This book has everything you need!
Order hard copy or get instant access to the Marijuana Garden Saver on your Kindle
---
Marijuana Grower's Handbook: Your Complete Guide for Medical and Personal Marijuana Cultivation
by Ed Rosenthal
Knowledge is POWER.
Learn how you can consistently grow HUGE, potent buds from Ed Rosenthal, one of the world-renowned masters of growing marijuana.
Ed Rosenthal is passionate about teaching and growing, and has been teaching people how to grow marijuana for over 35 years.
This book is structured almost like a college textbook, with clearly defined sections full of pertinent and well-organized information.
I continue to refer back to this book often, because the science is so sound and Ed offers a unquely experienced perspective on growing marijuana..
"Marijuana may not be addictive, but growing it is." ~ Ed Rosenthal
Whether you're growing Indoors or Outdoors, this book has you completely covered with all the information you need to dominate your grow and produce the kind of top-quality buds that leave marijuana enthusiasts buzzing.
And with over 500 gorgeous pages of full color photos and clear illustrations, this book covers everything from the standard beginner's grow guide to much more advanced techniques.
Watch a video interview with author Ed Rosenthal
Ed is passionate about the marijuana cause, and his obvious affection and helpfullness towards other growers comes through beautifully in his writing. His patience and compassion are two of the main things that makes this book stand out from the pack of other grow bibles.
This book can be considered an "all-in-one" grow bible, though I must warn you that the information leans more towards bigger gardens than smaller closet grows.
Additionally, this book contains an extreme amount of information, which is what really qualifies it as an inclusive "marijuana growing handbook". However, becuase of this, if you're just getting started and only want to grow just a couple of plants, this grow book may be total information overload.
On the flip side, if you're thinking about starting your own, larger-scale grow, then honestly you need to invest in this book. You won't regret it as you'll easily save yourself thousands of dollars.
Order your hard copy or get instant access to this awesome grow bible on your Kindle
---
What a Plant Knows: A Field Guide to the Senses
by Daniel Chamovitz
This book is not technically about growing cannabis, though I highly, highly recommend that every grower read this book if they want to get a greater understanding of how plants grow and what makes them tick. I feel like I got more from this book than many other cannabis-specific growing books. If you've already got a grasp of the basics of growing cannabis, and want to expand your scientific knowledge of plants, this book is for you!
The author, Daniel Chamovitz, Ph.D., is the director of the Manna Center for Plant Biosciences at Tel Aviv University. He has served as a visiting scientist at Yale University and at the Fred Hutchinson Cancer Research Center, and has lectured at universities around the world. His research has appeared in major scientific journals.
The book debunks a lot of the common myths perpetrated about plants, including some of the famous experiments/results from "The Secret Life of Plants." The books goes on to explain in detail how plants can "see" (how they sense and are affected by different types of light), what types of things they can "smell", how they sense / react to touch, and so on.
Despite his very science-y background, the content of the book is presented in a very clear easy-to-understand way that is enjoyable to read. Even though the book is not about any particular plant (it focuses on plants in general) I learned quite a few pertinent facts that have already been helping me increase yields and plant health in my own garden.
---
by Ryan Riley
I know you are dedicated to growing the best marijuana possible or you wouldn't be reading this right now.
As you probably know by now, marijuana plants are quite a bit more complex than a regular houseplant, but learning how to grow isn't as crazy complicated as a lot of growers make it seem.
Still, you need to learn this plant's language if you want to grow real chronic buds and get great yields.
So you could spend years and years learning from trial and error...
Or you can take the shortcut to consistently producing outstanding results by learning from real growers who have done all the work for you.
Every experienced grower has their own grow style, and over time as you get exposed to more info, you will begin to finely tune your personal grow style.
Now, there is a lot of great info in Ryan Riley's Growing Elite Marijuana book. If you read the entire thing from front to back, even a totally experienced grower will learn something, and probably a whole lot of things. For a beginner, this book has literally everything you will need to know.
As you probably know, the growing forums can be a rough place to learn how to grow weed, You must be on the lookout for bad information and will always be second-guessing whether this or that person in the forums actually knows what they're talking about. That's why investing in growing books by known pros will pay off in the long run.
Learn How To Grow "Chronic" Marijuana
I've read several marijuana books over the last decade (read some of my reviews about the best growing marijuana books), and learned a lot from all of them. Each book I've read has leveled up my growing skills.
Now the price tag for this resource is pretty high, so it's only recommended for growers who want to go pro with their growing skills. Still, I'm glad that I invested in this book, and I definitely have gotten my money's worth out of it 100x over via increased yields and saved time/frustration. If the price of this book is going to kill your growing budget, than you are going to have a tough time growing elite marijuana anyway. ;)
This book isn't for you if you're just looking to grow a tiny amount of buds to smoke a few times a year.
Yet if you're a daily smoker like me and are dedicated to growing a constant supply of chronic buds for as cheap and easy as possible, you'll be glad you invested in Ryan Riley's ultimate guide to growing.
Ready to Go Pro With Your Garden? Invest In Your Future Yields Today
---
More Best Marijuana Grow Bible and Other Growing Book Reviews coming soon!
---
Jump to...
How long will it take to grow weed?
What grow lights should I get?
Supercropping: Simple Secrets to Bigger Yields
---