You are hereLights / CFL Grow Lights
CFL Grow Lights
---
Articles and pages related to CFL Grow Lights on GrowWeedEasy.com
Question
I am not sure what kind of grow lighting I should get. I plan on growing 2 plants but I am on a tight budget and have a very small grow space (only 32" high). I've heard you can grow plants in very small spaces like a computer case, so this cupboard should be big enough.
I thought a 150w HPS grow light would be a bit big/hot for my space, so I'm thinking about going with CFLs instead. What do you recommend?
What do I look for with CFLs as far as wattage, lumens, and kelvin?
What's the difference?
Which CFLs work best for growing marijuana?

Why do some CFL'S have a higher wattage and lower Kelvin and some a lower wattage and higher kelvin?

What are the pros & cons of higher Watts & Lower Kelvin vs. low Watts & Higher Kelvin?
by Nebula Haze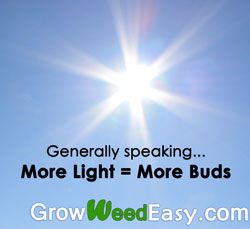 by Nebula Haze
---
Table of Contents